Ludo is one of the most popular and well-played games in India, people have been playing Ludo for centuries and with its easy gameplay, simple rules and multiplayer space that brings people together, the game is popular with players of all ages.
As the world has been progressing, Ludo has now been made digital and available online, making it even easier for players to enjoy it from anywhere at any time. The online Ludo games have bought a unique new attraction by providing their players with prizes for their winnings, making the appeal of the game even higher.
One of the best ways to play and win exciting prizes with Ludo has been with online Ludo tournaments. Ludo Empire is the best platform for players to play online tournaments as it doesn't just give players a competitive area to play Ludo but also a chance to win prizes of real cash for their gaming. Ludo Empire is a real money online Ludo game where players can win online money daily with their Ludo skills and its tournaments can have prizes leading to more than 10 lakhs.
Here, we will learn how to play online Ludo tournaments on Ludo Empire, its rules and tips to win better at the game and become Ludo champions.
Playing Ludo
But before we can move on to how you can play the online Ludo tournament and what are its rules, you need to know how a basic game of Ludo works.
Playing Ludo is very simple. The game contains 4 pawns for each player, dice and a square board and can be played by 2 to 4 players. All you have to do is roll the dice and move your pawns forwards according to your dice number. The objective of the game is to take all your pawns home before any of your opponents do.
What are Online Ludo Tournaments?
Online tournaments are championship matches where you can play and compete against other online players from all over India and win huge rewards with your gaming skills. The best part of the online Ludo tournaments is that you can easily participate in them from the comfort of your home or anywhere else you want.
To enjoy the online real cash Ludo tournaments, all you need is a smartphone with an internet connection and the Ludo Empire App. At Ludo Empire, you can take part in multiple Ludo championships and win online money daily.
How to Play Ludo Tournament on Ludo Empire?
Ludo Empire is India's best skill-based real-money Ludo game that has multiple online Ludo tournaments available for all thrill-seeking Ludo players. It hosts Ludo online tournaments on an hourly, daily, weekly and monthly basis, all with huge real cash prizes.
By following these steps you can easily start playing in the Ludo competition of Ludo Empire online tournaments:
Visit the Ludo Empire website, www.ludoempire.com.
Download the Ludo APK file and complete the installation.
Register yourself in the online play and earn Ludo Empire game.
Open the Tournament section and check out the upcoming tournaments.
Join the tournament you want to play at by paying the entry fee.
Once the tournament starts, you will get your opponents.
Play the Ludo game according to the Ludo rules.
Use your Ludo skills to win the tournament prize in real money.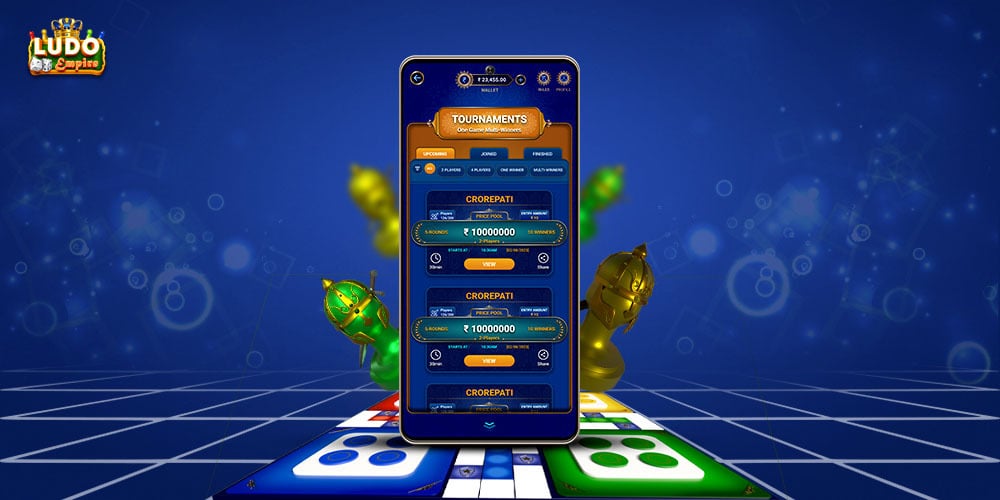 Rules of Ludo Tournament
Now that you know how to join and start playing online Ludo Empire Tournaments, it is important to know the Online Tournament Rules, so that you can play better.
There are multiplayer tournaments of 2 players and 4 players for you to choose from.
Ludo Empire tournaments are multi-round Ludo contests.
Each round is time-limited.
All of your pawns will already be outside the base and ready to move instantly.
For each step your pawns take you will earn 1 point.
When your pawn reaches home, your points are doubled.
If your pawn is eliminated, you will lose the exact points that that pawn has earned you.
With Ludo Empire's special feature, you can skip your chance 3 times in a game but skipping the 4th time will get you eliminated.
Once the round timer ends, the player with the maximum points goes to the next round and gets a winning amount for that round.
According to your points, you will be ranked after each round in the tournament.
In Ludo Empire, even if you lose the match, you can still win some amount, according to your rank in the tournament leaderboard.
If you reach the final round and come first on the leaderboard, you win the first prize.
In a Ludo tournament, your main objective is to earn the maximum points. One way to do so is by observing the position of your opponent's pawns on the game board and eliminating them whenever you get a chance.
Conclusion
Now you know all you need to play online Ludo tournaments. Follow these rules, practice your gaming, make a strategy for your matches, observe your opponents and win big prizes by topping the Ludo Empire tournament leaderboard.
The great part that comes with Ludo Empire Tournaments is that by paying a small amount for the entry fee, sometimes as low as ₹1, you can get to win up to ₹10 lakhs and sometimes even more!
---
Frequently Asked Questions
1. How you can know your points in the tournaments?
Your total points in a Ludo Empire tournament are shown on your game screen and are instantly updated after each dice throw.
2. What is the best platform to play online Ludo tournaments?
The best app to play online Ludo tournaments is Ludo Empire, a real-money skill-based Ludo game. Ludo Empire has multiple tournaments with huge cash prizes available at all times.
3. Where can you get the Ludo Empire app?
The Ludo Empire play and earn money game is available on both, its website and the Google Play Store. Simply download the app, register yourself and start playing!
4. How to always win a Ludo online tournament?
While there is nothing that can guarantee your win, you can use some special Ludo tips to increase your chances of winning: Know the rules clearly, observe your opponents, make a strategy, attack whenever possible and remain focused.
5. What is the lowest price for playing the Ludo Empire tournaments?
In the online real money Ludo Empire game, tournaments with different entry amounts are available that you can play and earn huge real money prizes with. The lowest entry fee for a tournament on Ludo Empire is ₹1/- and the winning amount can sometimes be as high as ₹10 Lakhs.