We all love to play games and it is more convenient these days because of the availability of smartphones, as it's an online gaming era. Ludo is one of the all time favourite games played by people all over the country. But how about playing a ludo game online while winning cash?
Ludo Empire is an interesting online Ludo playing platform that seamlessly blends the traditional board game with the convenience and excitement of the digital age.
Khelo Ludo Game India
Ludo Empire has a few simple steps to be performed while playing online Ludo Game, and by visiting Ludo Empire's website, you can get more information about the Ludo game.
Ludo Empire is the safest, easiest online real money game which provides the best safety to its users for secure transactions.
Ludo Game Modes
Ludo Empire offers various game modes of ludo such as Quick Ludo, Classic Ludo, and Ludo Tournaments. Let's understand these game modes in detail:
Quick Ludo
Online Ludo gaming is loved by most people but some of you may not have sufficient time for it. Well, Ludo Empire has the solution for you and with that you can enjoy your online ludo playing without investing long hours. This specific game mode of Ludo Empire is for players like you, who are always looking for short-term entertainment in online games.
This mode of ludo requires a minimum of two players in a match. You can finish this game in a minimum play time of 10 minutes and make paisa by taking only two of your pawns/gotis home.
Classic Ludo
People have been playing traditional ludo games for generations and it has become more popular in online mode and this online Ludo game also provides winning real cash.
The classic ludo mode requires a minimum of four players and is similar to a traditional ludo game, where you have to take all your pawns/gotis home to win.
Ludo Tournaments
Tournaments always bring in some fun and competition in ludo playing, and if you want to improve your gaming skills and prove that you are the best player among all, then you have to compete against multiple opponents of the Ludo Empire. These tournaments happen on an hourly, daily, weekly, and monthly basis.
To win the cash prizes, you have to win the tournament battle using your Ludo skills.
In a ludo game, there can be different kinds of players such as The Killers, The Jokers, The Gangster, The Trappers, and The Runners.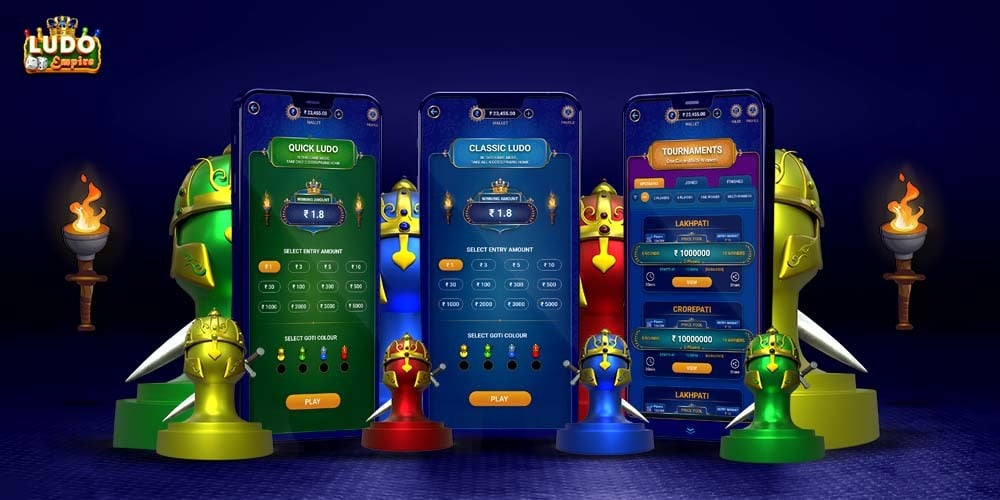 How to Download the Ludo Empire App?
Downloading the Ludo Empire khelo game paisa jeeto app is a simple process, you can download it similar to any other app on your Android mobile phone. So let's introduce the easy steps you need to follow before you get started:
Download the Ludo Empire APK from the Ludo Empire website
Register and sign-up to become a player.
Once registration is done you will receive a sign-up bonus of ₹500/-
Follow the given instructions and rules
Be clear about your ludo strategies while playing the game.
If you are new to this game then understand each and every rule, goti/pawns, colours, dice and other moves before starting the game.
Ludo Empire has come up with an idea of making your gaming experience even more interesting with paisa jeeto online Ludo game.
Quick Tips for Ludo Empire
Ludo Empire is India's leading skill-based ludo game. While the game is easy to understand and play, with these quick tips you can improve your chances of winning:
Learn about rules before the game gets started, so that you do not misplay at any stage of your game.
You should unlock all of your four pawns as soon as you can. This will help you to move your game better.
Make sure to focus on your ludo pawns and make your game easy by protecting them from elimination.
Be patient while your game is going on otherwise you will end up making wrong turns and which eventually result in losing instead of winning.
Target your pawns in attacking form all the time, this will lead you to win the game.
Conclusion
By playing your favourite childhood game of Ludo at the game khelo paisa jeeto Ludo Empire app, you can win real cash and make instant withdrawals of your game winnings directly into your wallet while having lots of fun with multiple online Ludo players.
The Ludo Empire game is not just about khelo jeeto paisa online but it also has a special referral program, where you can invite your friends with your referral code to play the game and get multiple bonuses. With each new referee's sign up you will get a bonus of Rs.5/- and also 2% of their entry fee every time they play a game.
So, to get this "Ludo game khelo, paisa jeeto online." and to earn money, you just need to visit the Ludo Empire's website and download its apk file on your smartphone and enjoy.
---
Frequently Asked Questions
1. Does this real-money game require any kind of documents for registration?
It does not require any document for registration but you need to have KYC registration for a big amount of money to make instant withdrawals and the player should be of legal age (18 years or above) .
2. Does this game have any specific time limit before withdrawing the money?
No, there is no specific time before withdrawing the money, you can withdraw as soon as you finish your game. Ludo Empire has several trusted payment partners like Paytm, GooglePay, Phonepe, etc.
3. What can you do if you need some help in your gaming?
Ludo Empire provides 24*7 customer support, they would be happy to help with any of your gaming queries. You can contact them through the Help Desk in the app or by writing a mail at [email protected].
4. Is there any Refer and Earn program?
Yes, Ludo Empire has a special feature of Refer and Earn, you can share your referral code with your friends and family. The benefits of Ludo Empire's referral program bring you many real cash bonuses. Every time your code is used to sign-up, you will get a bonus of ₹5 and you also get 2% of their joining fee every time they play a game.