Ludo is a game that can take you down memory lane and allow you to relive your childhood. From competitive battles with friends and family to winning handsomely against your siblings, Ludo continues to surprise us.
While the traditional board game had immense popularity back in its time, it lost its traction after the introduction of smartphones and digital devices. None of us now have the time or patience to play board games together.
But our love for Ludo is not yet gone. Even the younger kids are now curious about this age-old, famous board game that once rocked the subcontinent.
If you are one of those youngsters still willing to learn and reignite the traditional Ludo flame, here's how you can play it in a modern setting.
How Do You Play Ludo? Step-by-Step Directions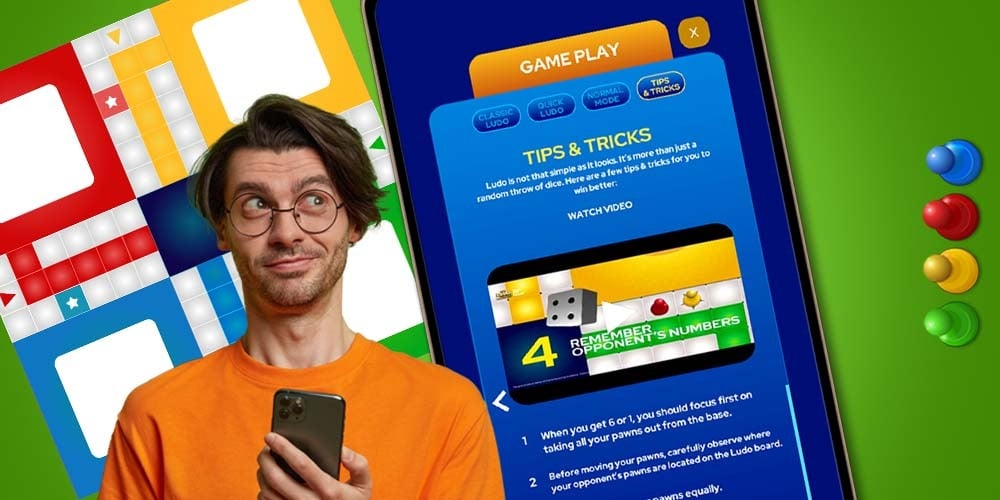 Earlier, Ludo was an excuse to gather and play with each other; however, the modern setting is different. People are now too busy to meet at a physical point and play the age-old game. While this disheartened a lot of Ludo enthusiasts, that should no longer be the case. The same legendary game is now available on a virtual platform. And you don't need to get confused about how to play online Ludo. The rules are the same as the traditional board game. All you need to know is how to play Ludo traditionally, with all the rules of the classic board game.
Here's how to play Ludo step-by-step:
1. Get a physical Ludo board and dice. You can get one from any nearby game shop, the same place where you'd go to buy cards or other board games. However, if you're wondering how to play online Ludo, you won't need a board; you only need a smartphone and a stable internet connection.
2. The next step in the how-to-play Ludo instructional manual is picking your teams. You can choose from four teams, each represented by a specific colour – blue, red, green, or yellow. If there are two players, then you can pick two teams each. Both teams must be placed diagonally from each other's starting bases.
3. Next, you can start the game by rolling the dice. You can do it yourself or allow the other person to do so.
4. From here, the players must start unlocking their pawns or gotis from their team bases. They can do so by rolling a six on their dice. You can unlock one goti every time you achieve a six. The unlocked pawn will be free to move.
5. Once you have unlocked some pawns, you can start their movement by rolling the dice. Whatever digit appears on it will determine the pace your pawn will move in the forward direction.
6. The goal is to guide your pawns to the center squares. The team getting all their pawns to the finish zone first will win the game.
7. Contrary to popular belief, Ludo is not a game of speed or quickness; it's a game of strategy and wits. You shouldn't just start moving ahead blindly. You also need to ensure that your opponent becomes slower. You can do this by eliminating their pawns.
8. If a player lands on the same square in which your pawn is resting, then they can eliminate your pawn. In such a case, the eliminated "goti" must go back to your base. You must unlock the eliminated pawn and restart the progress all over again.
9. A player can safeguard their pawns against their opponent. It's one of the most strategic tips when it comes to how to play Ludo. All you need to do is move your pawns into groups of two. If two of your pawns are on the same square, then they are safe from elimination.
10. Another tip on how to play Ludo games and win them is to land your opponent frequently on certain safe zones. When your pawns are in these safe squares, they cannot be eliminated by the opponent.
11. Whoever gets all of their pawns to the center squares before their opponent wins the game. This was a detailed guide on how to play Ludo, step by step. These rules can help you play Ludo online multiplayer and in a traditional setting. You no longer will need to find a separate instruction manual on how to play Ludo online with friends.
Online Ludo Game – Ludo Re-Imagined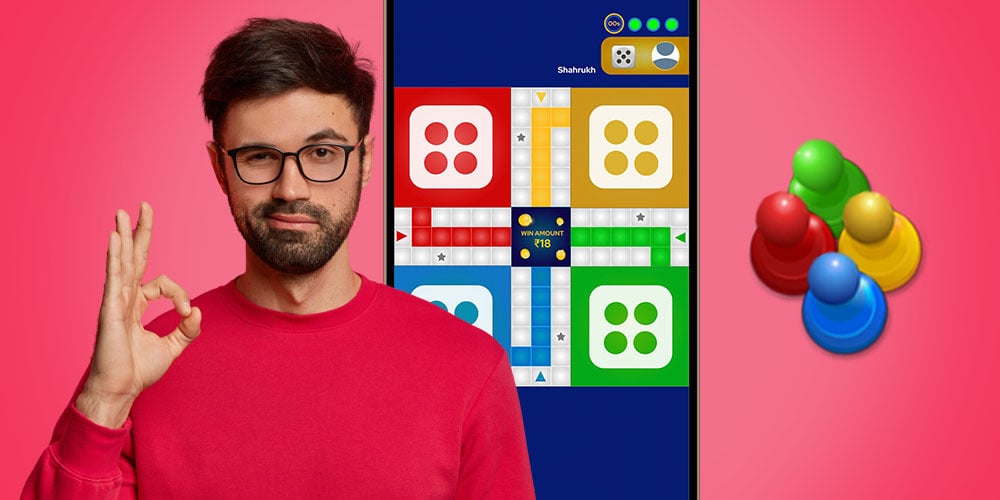 Online Ludo game has undoubtedly been a blessing of technology. Just when we thought that we won't ever figure out how to play Ludo with friends anymore, Ludo Empire came into the picture.
Do you know how to play Ludo with six players online? Earlier, you could only play a game of Ludo in parties of two or four. But if you have a larger group, say six friends, you might need a larger board – or perhaps a separate board game altogether!
Fortunately, now, you can play Ludo free online with as many people as you want. Of course, if you have more than six friends, some people might have to wait their turn. But it'll be worth it!
The online Ludo gameplay is the same as you would expect from the traditional board game. It has all the elements of excitement, fun, competitiveness, and intrigue. You already know how to play Ludo step by step; you don't need to know anything different to enjoy a fun session of an online Ludo game.
The best thing about presenting the board game in an online format is that you no longer have to figure out how to play Ludo with friends, especially if you have a lot of loved ones living far away. Now, you can enjoy the same love-filled games of Ludo on your smartphone. You won't need to be near each other to make memories again. You can simply play Ludo free online and develop a stronger bond among yourselves. And it wouldn't hurt if you let the online Ludo gameplay get the best out of you and unleash your competitive side! As we said, with the advent of online games, Ludo has been completely revolutionized and reimagined.
Ludo Empire – An Online Ludo Game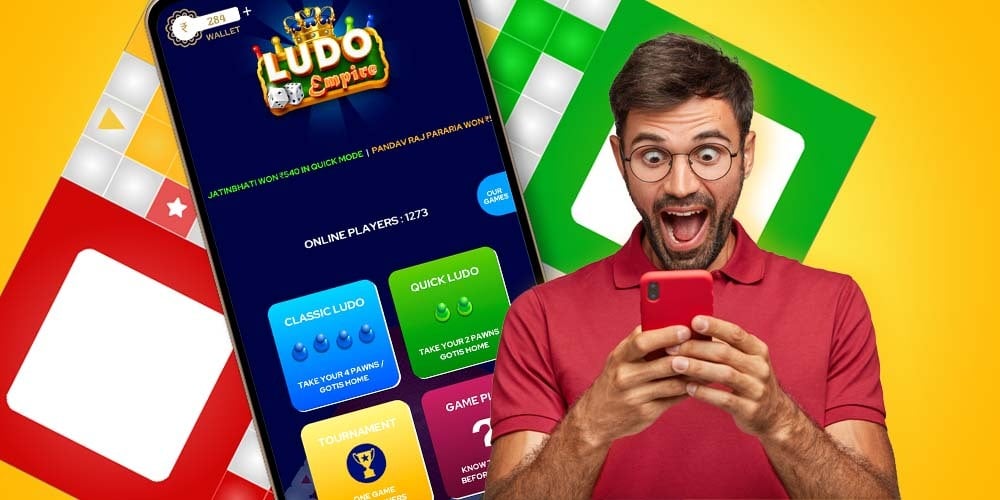 Look no further if you want to play the best online Ludo game. Ludo Empire allows you to enjoy an online Ludo gameplay experience unlike any other. It's exactly the blend of emotions you would feel while playing a traditional game of Ludo with your friends and family.
Ludo Empire is currently one of the trendiest online games in 2022, with millions of players trying to make a fortune every day. You can build your empire by competing with some of the top players in the world.
The best part? You can now enjoy the popular online Ludo game and earn money GPay, bank transfer, or any other mode of transaction that you would prefer. That's right – the earn money online Ludo game allows you to win in competitions and tournaments against the top players and earn real cash.
Gone are the days when your Ludo skills bear no fruits. Now, you can put your strategic wits to good use and climb the leader boards table. The more you win, the more you earn. Some tournaments can even have a cash prize of up to rupees one crore. The entry fee for such a tournament will cost you just ten rupees.
To enjoy the online Ludo game, you don't need anything special. Just your smartphone or any other device would do. The online Ludo game download process is also pretty simple. Here's what you need to do to enjoy the online Ludo game play experience:
Visit the official website of Ludo Empire.
Navigate to the home page of the website.
Click on "Download App" on the home screen.
Wait for the device to complete the APK file successfully.
Install the application on your smartphone device.
Wait for the installation to complete, and then open the app.
And that's it. That's how easy it is to complete the online Ludo game download process. From here on, you can easily play the online Ludo game to win real money. Still, trying to decide whether or not you want to play this online Ludo game and earn money on GPay? Let us introduce you to some of the better reasons why Ludo Empire is a game worth playing:
Different Game Modes:
In Ludo Empire, you don't have to worry about playing Ludo with strangers. The game will not allow you to be bored! It has a multitude of game modes to keep Ludo enthusiasts entertained. All of these game modes are tailored to suit the diverse requirements of different kinds of players.
Let's talk about some of the primary game modes:
1. Classic Mode: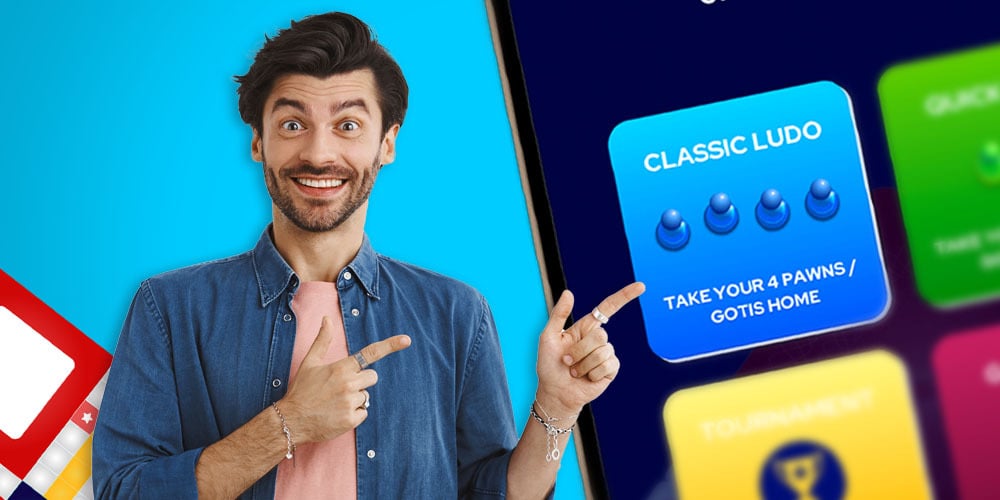 The classic mode replicates the traditional feeling of the board game in the form of an online Ludo gameplay experience. All the rules and regulations are the same as you would expect from a board game. You will start with the team of your choice and play against either one or three opponents.
The first player to guide all their pawns to the center square will win the game. This game mode is perfect for people who wish to engage in competitive battles with each other while also staying true to the original Ludo roots.
2. Quick Mode: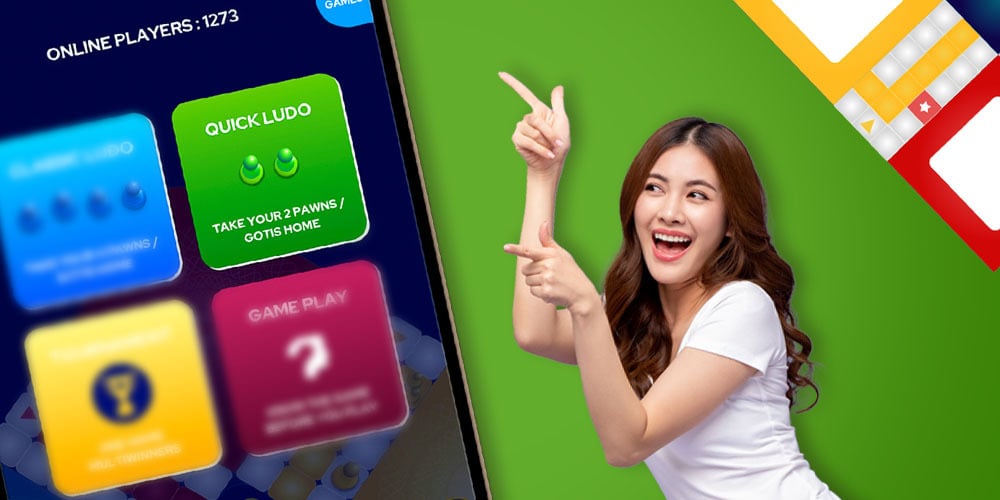 The modern lifestyle is quite fast-paced. Only a few people can devote a lot of time to earning money through the online Ludo game that is by playing Ludo Empire. As such, the game allows you to have a quick Ludo session to destress yourself.
In the quick mode, you only need to guide two of your pawns to the center squares. The first player to do so will win the game. Generally, a classic match can last anywhere between 15-30 minutes. A quick match, however, can end as quickly as five minutes. It all depends on your strategy and luck to a certain extent. This game is ideally suited for people who don't have much time but want to enjoy a game of Ludo before moving on with their lives.
3. Tournament Mode: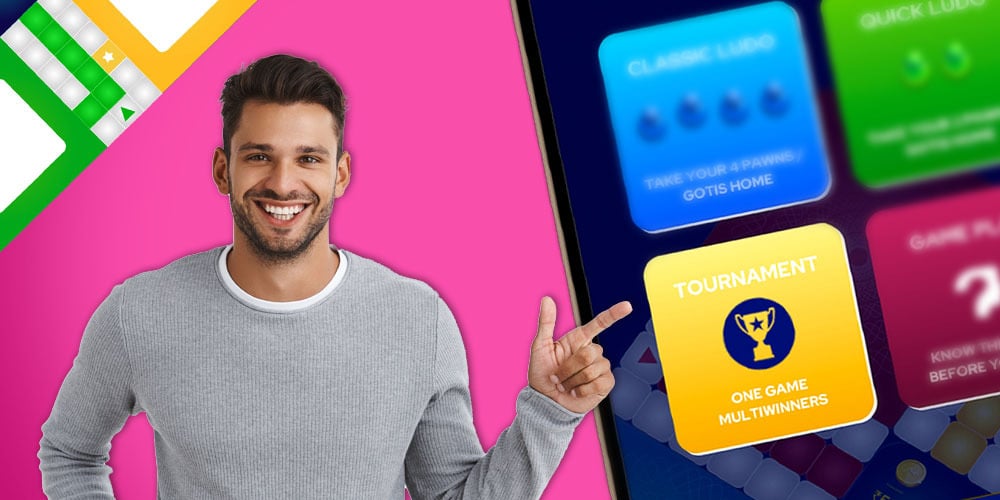 If you want to play an online Ludo game and win real money, this game mode is the most suitable. Ludo Empire hosts various tournaments on a regular basis.
You can enroll in any of these tournaments by paying a minimal fee of 10 rupees. But if you win the competition, beating all the top Ludo players from around the world, you can get a cash reward of 1 crore rupees.
The tournament is the most enticing part of playing Ludo Empire. This is the game mode where amateur Ludo players become professionals. After a fair bit of practice, you can start climbing up the table and become the best player in the world.
Earn Money Securely
Would you believe it if someone told you that you could earn real money by winning at Ludo? Fortunately, now that dream can come true.
At Ludo Empire, you can engage in cash battles against other players and win real money. The best part? All the transactions are secured by some of the most reputed companies, including Google Pay and Phone Pay.
You no longer have to worry about securing your winnings and transferring them to your bank account. All the cash that you win in Ludo Empire will be safeguarded. It can be transferred to your account as and when needed. The whole process is quick, secure, and convenient for the players. With this technology, Ludo Empire becomes the first game to allow cash transactions easily.
Reignite the Age-Old Flame
Ludo Empire is one of the most prolific and popular games in the world right now. Huge credit goes to the game's convenience, interface, gameplay experience, and so on.
But we must acknowledge that the popularity is also because of the large fan base of the traditional board game. Ludo is one of the oldest board games in the entire subcontinent. It used to be played by the Mughals and has its traces even in the Mahabharata.
Everyone in India has played Ludo in their younger days. Those who haven't are planning to try it with online games.
With Ludo Empire, people have the chance to enjoy the traditional board game once again in a virtual space. The game makes playing with your friends and family more accessible. You don't need to be in the same place to enjoy a game of Ludo with your loved ones.
Ludo Empire is once again trying to rekindle the popularity of the nation's most beloved board game by enabling Ludo enthusiasts to play amongst each other on a virtual platform.
How to Play Ludo Game Online?
Earlier, there was a lot of doubt about how to play Ludo games without buying a board. Now, with the introduction of online games and Ludo Empire, you can enjoy a classic match of Ludo with your friends anytime and anywhere.
If you know how to play the Ludo game in its traditional format, you'll have no issue playing it in an online mode. The rules and regulations are the same, as are the format and everything else.
Here's how to play Ludo with friends online:
Download and install Ludo Empire on your smartphone.
Open the application.
If you want to know how to play Ludo with friends on your phone, you can play with 'Classic Mode' or 'Quick Mode' on Ludo Empire and refer the game to your friends.
You can even play Ludo online multiplayer with friends by participating in tournaments.
So that was how to play Ludo game with friends online. As you can see, the process is quite simple and uncomplicated.
---
Frequently Asked Questions (FAQs)
1. Can I play Ludo online?
You can easily play Ludo online with your friends by downloading Ludo Empire on your smartphone.
2. How to play Ludo and win always?
Playing Ludo involves strategy. You can regularly win by deploying strategic moves to block your opponent's progress and move your pawns forward.
3. What are the rules for playing Ludo?
The most common rules to play Ludo are:
Unlock your pawns by rolling a six on your dice.
Eliminate other pawns by landing on the same squares as them.
Be safe from elimination by having two of your pawns on the same square.
Three consecutive sixes on your dice will result in losing your turn.
Throwing a six will give you an additional turn.
Anyone who reaches the finish line first will win the game.
4. How many players can play Ludo?
Earlier, a minimum of two and a maximum of four players could enjoy a game of Ludo at a time. But now, online Ludo games can host six Ludo players simultaneously.
5. While playing Ludo, can my opponent pass the block?
If you block a square by having two of your pawns in the square, your opponent won't be able to cross that block.
6. How to play Ludo online?
You can play an online game of Ludo by downloading and installing Ludo Empire on your smartphone.