Ludo is one of India's oldest and most popular games, loved by everyone, whether kids or adults. The game is known for its simple rules, easy gameplay, colorful boards and pawns, competitive yet enjoyable nature, and the sense of togetherness it brings to all.
As the world turned to digitalization so did the ludo game, being made into digital and online platforms. With this expansion of Ludo into digital platforms, the popularity of the game has increased to new levels.
Online Ludo offers players easy accessibility to the classic game of Ludo from anywhere at any time for their entertainment. Several Ludo apps have also turned towards the real money gaming sector where players can play Ludo and earn money at the same time.

Ludo Empire is one such app where players can play the game to win real cash with their Ludo strategies and skills. It is a multiplayer skill-based real money online Ludo app that is currently leading the online real money Ludo games in India.
Ludo Empire: Online Real-Money Ludo Game India
The Ludo Empire game consists of the same square board as an offline Ludo game with 4 different colored sets of 4 pawns each, and a dice. The players need to take their pawns home before their opponent does to win and get Ludo payment earnings in real cash.
Ludo Empire, while providing players with the joy of online ludo play and earning huge cash prizes, also provides players with different game modes of Ludo for players to experience the game in new formats, bringing a new twist to their Ludo gaming.
The Different Game Modes of Ludo Empire and Their Differences
Each player has a preference for the type of game they wish to play. Different game modes of Ludo Empire ensure that all players get to enjoy their Ludo gaming in the way they want. To play with the different Ludo game modes, all you need to do is download the Ludo Empire download, register yourself, choose a game mode, and start playing.
There are 3 game modes available for players in the Ludo Empire app: Classic Ludo, Quick Ludo, and Tournaments. Each game mode has a similar gameplay to that of the general game of Ludo but each has a few different and special rules and benefits.
1. Classic Ludo
Classic Ludo mode in Ludo Empire brings Ludo players the traditional way of playing Ludo in an online form. It is a multiplayer mode where 4 players play together at a time with each having a set of 4 pawns of a color to use and move in the game.

At the beginning of the game, all pawns are locked inside the base and need to be opened before they can start moving on the board. Players need to roll either a 6 or a 1 on the dice to open their pawns, once opened the pawns can be moved forward, according to the ludo dice number rolled.

The objective in the classic mode is for you to take all of your 4 pawns home before any of their opponents do. While many would say that the match depends on the dice numbers and as such on luck, it is not true, the outcome of the game depends only on your choices. For you to make the best choices in your classic ludo gaming, you need to make sure that you're familiar with all the Ludo Empire rules, so you don't make any mistakes while playing and have better chances of winning and earning real money prizes up to thousands daily.
2. Quick Ludo
Ludo Empire's Quick Ludo mode is a special ludo game mode bought for players who want to play a ludo match but do not have the time for a long match or are looking for a short game in a break. It is a multiplayer game mode where only 2 players are on the board with both having a set of 4 pawns of a color each.
The specialty of this game mode is that all pawns are open and outside the base at the start of the game, as such players don't need to wait for a 6 or 1 dice roll, the pawns can be moved at any dice number immediately.
In this Ludo mode, you only need to take 2 pawns for your home before your opponent does to win the match, making the time of the match shorter than that of the classic mode. A quick ludo match can be finished in a minimum of just 10 minutes, making it perfect for players who are looking for quick gaming and entertainment. This mode is the perfect mode for players to practice their Ludo tips and tricks and hone their skills to become better Ludo players in a short while.
3. Tournaments
Ludo Tournaments on Ludo Empire are one of the best platforms for players to engage in cash battles against multiple Ludo players at a time with their skills. The tournaments happen on an hourly, daily, weekly, and monthly basis, giving players access to ludo battles at all times.
Ludo Empire has many formats of tournaments for players to enjoy: 2 Player, 4 Player, Single Winner, and Multi-Winner with each tournament following the same rules. In each Ludo Tournaments India, there are multiple rounds and each round runs on a time-limited basis with all players having their pawns open and ready to move.
While the objective of the tournaments is the same as the other modes of Ludo, to take the pawns home before any of the opponents do, the main objective is slightly different.
The main objective in a Ludo tournament is for you to get more points than your opponent before the timer ends to win. The thing that makes tournaments special is that with each round you win some amount, according to your rank on the tournament leaderboard.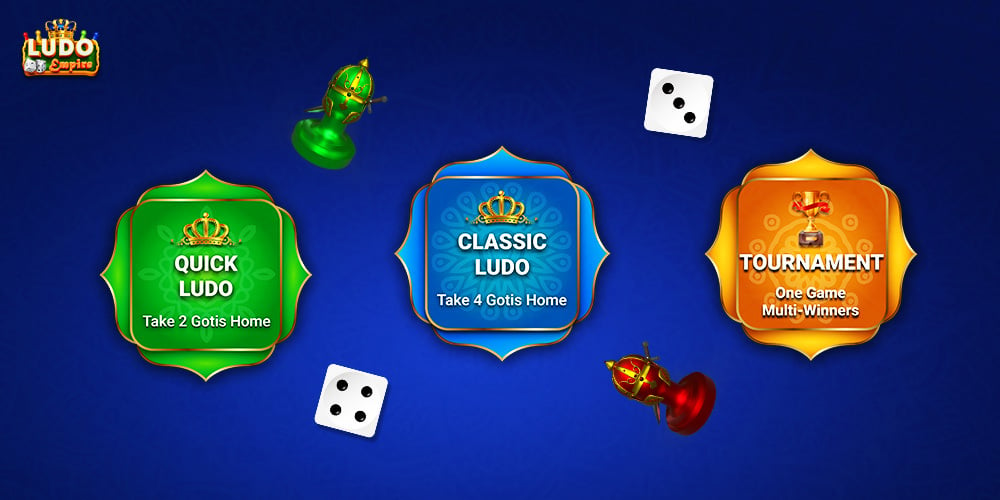 Conclusion
You can join and play any of these game modes on Ludo Empire and win exciting prizes from anywhere at any time, whether you want to enjoy a traditional game of ludo, take a short break with a ludo match, or prove your stand among the best of the best Ludo players in India. All you need to do is visit the Ludo Empire website and download the app to start your journey of Ludo gaming in different modes and win amazing real money prizes!
---
FAQs
1. How many game modes are there in the online Ludo Empire app?
There are a total of 3 game modes in the Ludo Empire app: Classic Ludo, for players who want to enjoy a traditional game of Ludo, Quick Ludo, for players who want to play a short game with a big win, and Tournaments, for players that want to take part in the big leagues with professional Ludo players.
2. What is the objective of the Quick Ludo game mode?
In the Quick Mode of Ludo Empire, the player's objective like the Classic Mode is to take their pawns home before their opponent does to win real cash but instead of taking all 4 players home, they only need to take 2.
3. How long does a game of online Ludo take?
There is no definite time for how long a Ludo game can take, it depends on the choices the players make during their gaming and how well they play, but if players are looking for a short game, they can enjoy the Quick Mode which can be finished in a minimum of at least 10 mins.