Playing games is a favourite pastime of people of all ages: games give people the opportunity to bring people together, have fun and make memories. One of the most popular games that people enjoy is the Ludo game, a classic Indian board game that people across the world love.
The Ludo game is typically played on a square board with a cross-shaped path that leads to a central square called the winning area or more commonly as "Home". On the Ludo game board, there are four different coloured boxes at the corners of the board, called the base, and each contains four tokens of the same colour as the base. Each Ludo player has to choose a colour for their token set and then move those coloured sets of tokens towards the winning zone, according to the number rolled on the Ludo dice.
Online Ludo India
The popularity of Ludo has led the game to go from just a traditional hands-on game to a digital one. With digital ludo, all Ludo enthusiasts now have the game at their fingerprint anytime they want to play from anywhere they want, making the popularity of the game reach its peak.
One of the leading platforms for ludo gameplay in India is the Ludo Empire game. Ludo Empire is an online real money skill-based Ludo game, where players can play Ludo with multiple Ludo players across the country and win real cash rewards with their skills at the same time.
Ludo Empire Online Real Cash Game
The Ludo Empire game has a similar ludo gameplay as that of the traditional game, with just a few differences that bring a unique twist to the game. There are different game modes of Ludo available in the Ludo Empire app for players to experience and enjoy playing, with the added Ludo game online play 2 players and 4 players options for their choosing.
There are 3 Ludo modes in Ludo Empire: Classic Ludo, Quick Ludo, and Tournaments. Each mode is different and each has its special features.
The Classic Ludo mode is for the players that prefer to experience the traditional ludo board gameplay. It is a multiplayer Ludo game, where players have to take all 4 of their tokens home to win.
The Quick Ludo mode is for players who are looking for a short and paced game of Ludo, where they can enjoy gaming in a short while. In this mode, players have to take just 2 of their tokens home to win, before their opponents.
Ludo Tournaments are for the players who are looking for a more high-stakes and competitive gaming. Tournaments are point-based ludo contests where multiple Ludo battle against each other in a game of Ludo with their skill to get more points than their opponents to win.
To start your Ludo Empire gaming, all you have to do is visit the Ludo Empire website and do the Ludo Empire APK file download. Install the app, register with your phone number and start playing to start winning cash!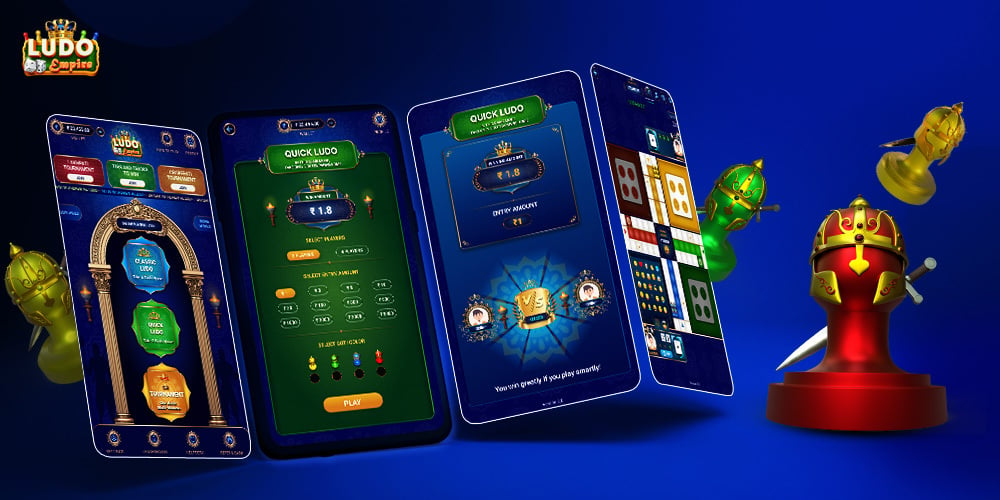 Ludo Gameplay Guide
Before you start playing the Ludo Empire game, you need to know the Ludo rules so you don't make any mistakes while playing and lose your chances of winning the game.
Here's a guide to how to play Ludo in Ludo Empire:
You need at least 2 and at max 4 players playing on a board in a game.
Your tokens will be locked inside the base at the start of the game. You need to roll a six or a one on the dice to open them.
Whereas in the Quick Mode, all your tokens will already be open at the start of the game and ready to move.
The number on the dice determines the number of moves your token can make.
Landing on the same square as your opponent will lead to them getting eliminated and their token being sent back to the base to start again.
Eliminating an opponent's token, taking your token home or rolling a six gets you an extra turn.
If you roll sixes 3 times in a row, your turn will be null.
You need to take tokens home before your opponent, to win the game.
Special Ludo Empire Rules
Now that you know how to play the game, let's have a look at the special rules of Ludo Empire that make the game special and different from all others.
In the Classic Mode of Ludo Empire, players need to roll a six or a one to unlock their tokens from the base before they can start moving.
Whereas in the Quick Mode, all tokens would already be open and outside the base and ready to move, since the start of the game.
In Classic Mode, players need to take all 4 tokens home before their opponents whereas in Quick Mode, they only need to take 2 tokens.
In Ludo Tournaments, each move counts as a point and the player with the most points before the time ends wins the round.
Taking a token home in Tournaments doubles the player's points.
If a token is eliminated in a tournament, then the player loses the total points that a particular token has earned.
In Tournaments, there are multiple rounds in each tournament and for each round players can win a certain amount based on their ranks on the leaderboard.
If there are two tokens of the same player present on the same square then that spot becomes a safe spot, making them safe from elimination.
Conclusion
Understanding these rules and guidelines is only the first step in your Ludo gaming, the next thing to do is practice your playing and Ludo Empire is the perfect app for your Ludo gaming. At Ludo Empire, you get a range of tables with different entry amounts that you can choose from depending on your preference and win big prizes while also increasing your skill levels. There are several benefits that come with playing with Ludo Empire, like a ₹500/- sign-up bonus, instant withdrawals with full safety and security, and a Ludo referral program with cash bonuses to the referer. So don't wait, download Ludo Empire now and start playing!
---
FAQs
1. Where can I get the real money Ludo Empire app from?
The Ludo Empire app can be downloaded in two ways, either by visiting its website and downloading the Ludo Empire APK file or from the Google Play Store.
2. What happens if a player rolls 3 sixes in a row?
If a player rolls 3 sixes in a roll, their chance will be nullified and the dice gets passed to the next player.
3. How many game modes are available in Ludo Empire?
There are 3 modes in Ludo Empire: Classic Ludo, for traditional Ludo gaming, Quick Ludo, for a short game of Ludo, and Tournaments, for participating in Ludo contests.