Ludo is a classic board game that is usually thought of with a sense of togetherness, friendships, and entertainment, it is a game that brings people together. While players all over the world enjoy the game with friends and family in a relaxing manner for fun, there are a few players who are looking for something more competitive and rewarding.
Online Ludo Tournament India
Ludo Tournaments are competitive ludo battles where players can compete against each other and defeat them with their gaming skills, proving themselves the best of the best Ludo players and winning cash prizes.
One of the best and leading platforms for Ludo Championships in India is the real-money Ludo online app, Ludo Empire where players compete against multiple Indian Ludo professional players and win prizes in real cash with their skills.
Ludo Empire Tournaments online are open for all Ludo lovers at all times. These Ludo contests have low entry fees, as low as ₹1/-, with huge cash rewards of up to ₹10 lakhs, and are held regularly on an hourly, daily, weekly, and monthly basis. There are even multiple types of tournaments for players to choose from according to their preferences, all tournaments are time-limited as well as point-based contests.

All you need to do to enjoy the online Ludo tournaments is complete your Ludo Empire download, register yourself in the app, and join your choice of tournaments. You can even join multiple tournaments in a day and win money online daily.
Types of Online Tournaments in Ludo Empire India
The Ludo Empire app has different types of tournaments available for players to battle in and play to show off their Ludo skills and earn real money prizes:
2 Player Tournaments:
These tournaments have matches of 2 players on the ludo board, where 2 random players compete against each other in a round to win and move forward to the next round to compete against other round winners on the other boards, depending on their points.
4 Player Tournaments:
In this type of tournament, 4 random players are matched to compete in a ludo match for a round and win by having more points than their opponents before the time ends and they move on to play against the winners of that round on other boards in the next round and ultimately win the game.
Multi-Winner Tournaments:
Some ludo battles have multiple champions, providing players the opportunity to win cash prizes, even if they are not the final winner of the tournament. The tournament's leaderboard is generated based on the players' points and based on that rank, each player wins an amount.
Single-Winner Tournaments:
These tournaments are for the players who are looking for a thrilling competition to prove themselves the best Ludo player of all. In these tournaments, there is only one winner and only one final cash prize that can be won by the player who wins the last and final round of the tournament.
Each tournament on Ludo Empire follows the same rules and has similar gameplay, but on its own every tournament is different.
Online Ludo Tournament Rules
While Ludo Empire's gameplay is similar to that of the classic Ludo game, its tournaments have some special tournament rules that you must know before participating in its championships so you have better chances of winning:
All tournaments are multiplayer, point-based tournaments.
There are multiple rounds in a tournament and each round is time-limited.
Each step of your goti gets you 1 point and if your goti is eliminated, you lose the exact number of points that goti has earned you.
With a special feature of Ludo Empire, you can skip your chance at least 3 times without losing the game.
Once a round's time ends, the player with the maximum points will qualify for the next round.
Even if you lose, you can win some amount based on your rank on the leaderboard, which is calculated according to your points.
By reaching the final round and defeating your opponent, you win the tournament and earn the cash prize.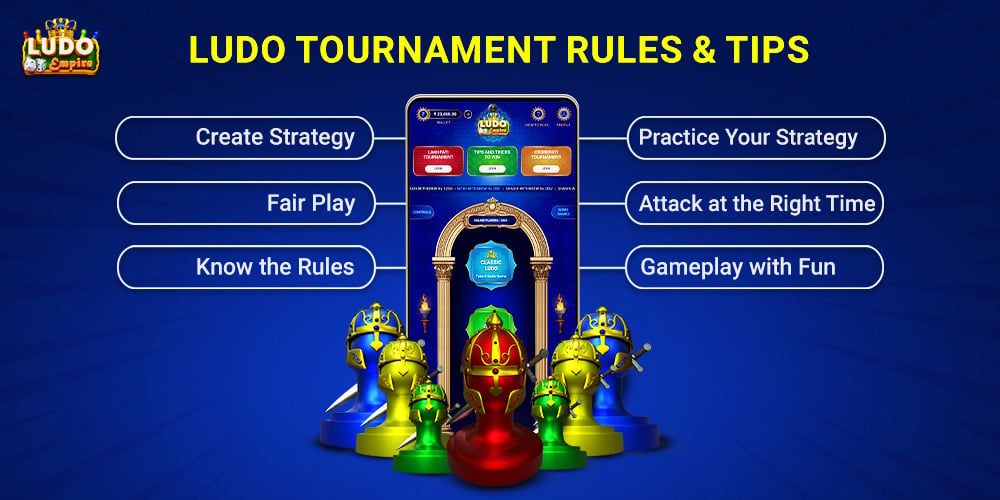 Tips for Ludo Online Tournament
Knowing the rules of the online Ludo tournament does make the gameplay easy, but to increase your chances of winning even higher, let's go over some of the online tournament tips:
Create a strategy that you want to use in your gaming.
Practice your strategies before joining the tournaments by playing some Ludo matches.
Make sure you are aware and understanding of all Ludo rules and Ludo tips before you start playing.
Observe how your opponent is playing, and make changes to your planning accordingly.
Create barricades in your opponents' way and attack their gotis when you can.
Taking your goti home will double your points, use this to your advantage.
Remember as much as this is a ludo competition and requires focus, it is important to have fun too.
All tournaments have entry for a limited number of players, make sure to join the tournament before it fills up and you lose your chance.
Using a filter you can sort out the kind of Ludo Empire tournaments you want to view and join.
In Ludo Empire, you can find information about what type of tournament is available to join by viewing the tournament details in the app's tournament section, and then choose which tournament would suit you best.
How to Join Ludo Online Tournaments?
You can easily join and participate in Ludo Empire tournaments by these steps:
Visit Ludo Empire's website and download the Ludo Empire APK file.
Complete the app installation and accept the Terms and Conditions
Register with your mobile number.
Click on Tournament and under 'Upcoming', see the available tournaments.
View your preferred tournament's details.
Make the required choices and join the tournament.
After you have joined the tournament, wait till the time tournaments starts. Once started, make the highest points in each round, defeat your enemies, and win the match to earn cash prizes.
Conclusion
Online Ludo Tournaments on Ludo Empire are not only about the kind of tournament a player enjoys or the prizes they win but also for the entertainment, fun, and thrill it provides the players. The tournaments are a way for players to broadcast their skills on a bigger platform while also enjoying a classic game of Ludo.
---
Frequently Asked Question
1. What is the best platform to play online ludo tournaments?
Ludo Empire is currently India's best and leading platform for real-money online Ludo games where players can win up to ₹10 lakhs by competing in its tournaments with their skills.
2. How many points can a goti earn in a round of ludo tournament?
A goti can earn a player a total of 56 points on its own in a match and if a player manages to take their goti home, their total points get doubled instantly.
3. Can multiple tournaments be joined and played at a time?
While, yes, players can join multiple tournaments at a time, they can only play one tournament at a moment. If players leave one tournament for another, they will lose that tournament and cannot return to it.
4. How many rounds are there in an online Ludo championship?
In the online Ludo Empire tournaments the number of rounds are not pre-determined but are different for different tournaments. Players can see the number of rounds a tournament has by viewing the tournament details.