Adulthood is boring. But there are ways to spice up your days and revisit your childhood.
What is the best way to do that other than playing the most popular board game to ever exist in the Indian subcontinent – the game of Ludo!
But this time, you don't need to spend much time trying to get your friends and relatives together for a single game. With Ludo Empire, you can experience all the fun of the traditional board game in a virtual mode.
Sounds exciting? Join millions of Ludo players online and get on the fun train because it's time to chase the boredom away!
What is Online Ludo Game?
You can now play the online Ludo game with your friends and family from within the comfort of your home. As a result, the online Ludo gameplay is quite streamlined and smooth. Moreover, with the arrival of multiplayer gaming, you can now play online Ludo games even with your loved ones who live far away.
Ludo Empire makes it easy for Ludo enthusiasts to play the game online. You can play online Ludo games, with around 6 million users competing for the top spot.
All these years, you must've missed rolling down those consecutive 6s on your dice to get a head-start over your best friend. Now, with the top multiplayer game in the subcontinent, you can relive those precious moments again.
Ludo Empire is more active than ever, with around 3 lakh players competing daily for fun, and cash, while enjoying the fun experience of playing an online Ludo game free.
Oh, didn't we mention it? With Ludo Empire, you get to have fun AND earn money simultaneously. The game, brought to you by Fabzen Technologies, is a real-money multiplayer competition in which players are pitted against each other in a not-so-friendly game of Ludo.
You can win cash by competing with your friends and family or opt for glory and compete in the leaderboards by playing against some of the top names from around the well. Now, you can play an online Ludo game and earn money. Who would have thought?
Ludo Empire recreates the traditional joy of the popular board game while eliminating all the hassle required to set it up. By providing a virtual solution for the same, Ludo Empire allows millions of users to come together as a community and rekindle the flame of Ludo all over again. Only this time, you get to connect with not just your friends and family but with Ludo enthusiasts from different regions as well.
Ludo Empire uses groundbreaking technology and algorithm to create a fair, fast, and convenient user experience. In this rapidly changing world, Ludo is the only constant from our childhood. And Ludo Empire aims to preserve that sentiment by providing a smooth gaming experience.
Why Has Ludo Been So Popular Up to this Point?
The memories of playing the Ludo game with your friends and family are something that we cherish deeply. There's a reason why we wanted to start playing Ludo online – we cherished to recreate such memories. Now, you can play online Ludo games and earn money, doubling the experience.
Ludo has been the most popular board game in the Indian market for a long time now. The main reasons behind its massive fan base are how easily accessible the Ludo board was, how simple the rules were, and how competitive the game could be.
With Ludo Empire, the same popular game is back, only with better features and more convenience for the players. You can now play Ludo game online with just a few simple clicks. Moreover, the game also allows you to engage in playing Ludo and earn money simultaneously – a dream come true for many.
Think back to all the memories you created while playing Ludo with your friends and family when you were just a kid. The online Ludo gameplay can recreate such memories thousand times over.
Life was undoubtedly simpler back in our childhood. Unfortunately, we cannot un-complicate life right now. But we can simplify Ludo by shifting it to a virtual platform.
That is precisely what we did. We ensured the board's and dice's presence online, replicating the traditional board game. With us, you can create memories you thought were buried long ago.
Bond with Family, Make New Friends
There was a slight downside to playing the traditional board game in a physical setting. You could only play with a limited number of people who were in close vicinity. However, several people you wanted to play with couldn't be there.
With Ludo Empire, the hassle of organizing and assembling is over. All you need to do is invite your friends to download the application on their smartphones and start playing with them.
Moreover, you don't necessarily have to play with the people you know. Ludo Empire is home to millions of Ludo enthusiasts. You can choose to play a game with any of them whenever you feel like making new friends.
After all, what's better to start a unique friendship story than defeating them in a game of virtual Ludo?
What Equipment is Needed to Play Ludo?
Traditionally, Ludo players required a board with pawns (or gotis) to compete with each other. But, the online Ludo gameplay does not require any additional equipment. You can play online Ludo games without purchasing anything.
All you need is a smartphone to access the best Ludo game online and start an online Ludo game free by tapping on your phone a couple of times.
Three clicks – that's all you need to do to install the application on your phone. Simply download the APK file and start playing. Here's what you need to do for a smooth online Ludo game download process and start playing.
Go to Ludo Empire's official website.
Locate and tap on the "Download Now" button.
Grant your phone permission to download from a new source.
Allow your device to complete the installation process.
Once installed, locate the Ludo Empire icon and tap on it.
Start a game and begin your money-making journey.
That's how easy it is to download and install the best online Ludo game. After downloading, you can simply access the online Ludo game free of any cost.
Follow the steps mentioned above and start earning cash right away!
Enjoy Ludo in All Shapes & Sizes
Fortunately, enjoying Ludo in all shapes & sizes does not mean that we are just presenting a circular board to you. No, we are keeping all the rules the same as the traditional regulations of the board game. After all, we are here to preserve memories, not alter them!
But what you can do is enjoy the different game modes of Ludo Empire. That's right; you don't have to spend hours playing the same thing repeatedly. Despite our love for the game, we realize that doing so might eventually lead to a whole lot of unaccounted boredom!
Fortunately, Ludo Empire comes with a solution for that. We have different game modes that you can enjoy while playing the multiplayer game.
Tournament Mode: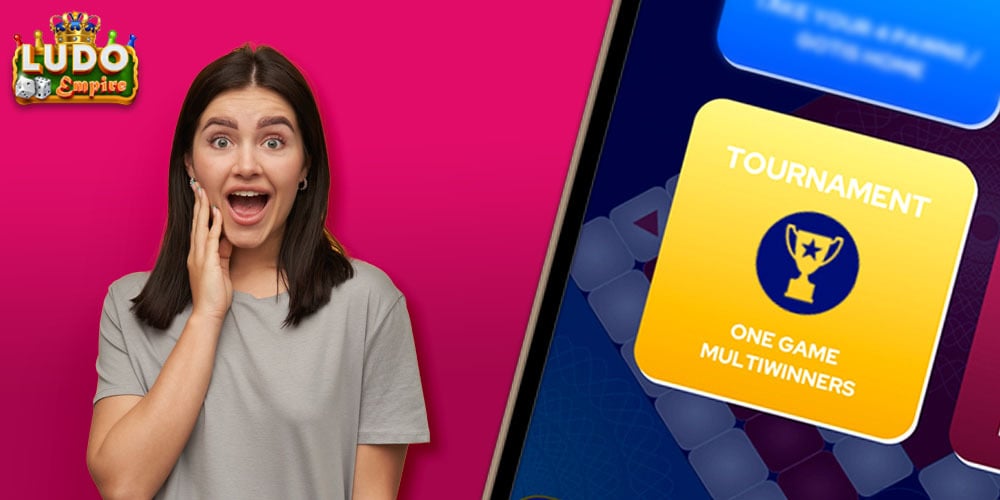 Perhaps the most popular game mode is the tournament mode in Ludo Empire. Millions of players enroll in these daily, weekly, and monthly competitions.
You get to compete with some of the most strategic and advanced Ludo players from around the country and even from other parts of the world. Play as well as you can, defeat as many opponents as possible, and at the end of it – win the ultimate prize.
You guessed it right – a considerable cash sum for the winner of each tournament. These cash prizes can go as high as one crore rupees.
Imagine going home with your earnings worth lakhs of rupees and showing them to your family. Still think Ludo is a waste of time? Think again, perhaps.
Classic Mode: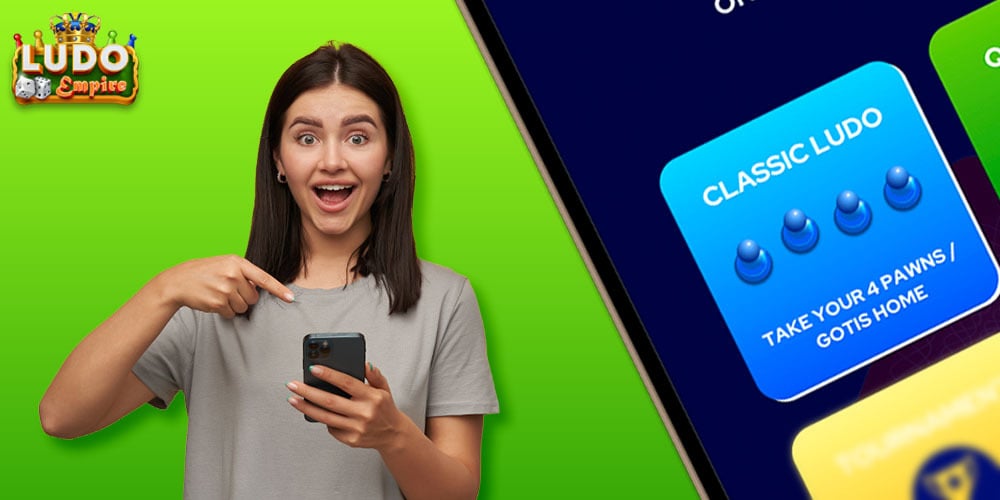 The game mode perfectly depicts the traditional way of playing Ludo. In the classic game mode, you follow the basic rules & regulations of the board game and use your skills, wits, and strategy to defeat your opponents.
You can play a classic game against anyone. If you want, you have the choice of creating a private room and playing with your friends, family, and acquaintances. On the other hand, you can also enjoy a fierce game of Ludo with a competent stranger. The advantages of taking the popular board game online are immense!
In the classic mode, you must take all 4 of your pawns or "gotis" to the center squares before the opponent. Whoever achieves this feat before the other will win the game. It's simple, convenient, fun, and easy to understand.
Quick Mode: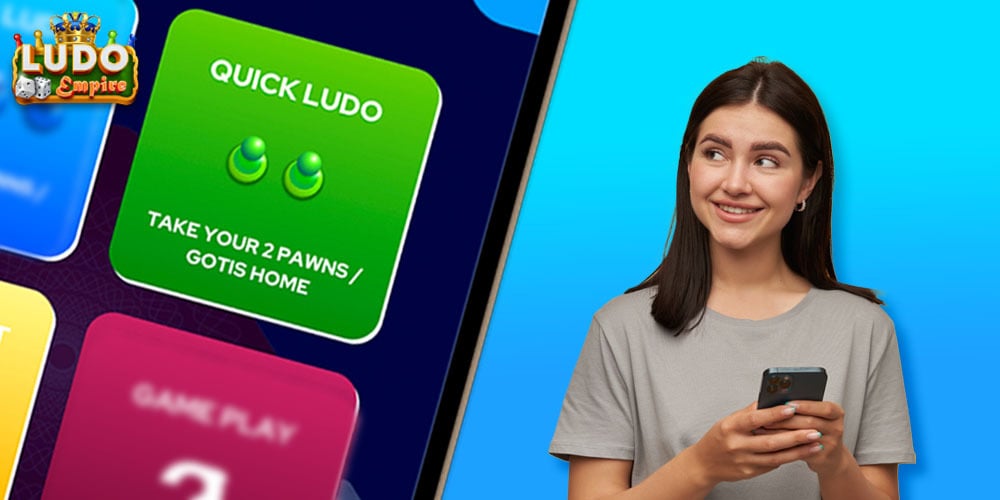 Sometimes, life is too fast-paced to enjoy a full match of Ludo comfortably. But if the board game has become an addiction and you still want to play it despite your busy schedule, there's one way to do it – hop on the Ludo Empire bandwagon.
The multiplayer game offers a quick mode wherein one can enjoy the fun and nostalgia of a traditional Ludo game in a fast-paced environment.
In a quick match, all you need to do is guide 2 of your pawns or "gotis" to the finish line, as opposed to the traditional rule of guiding all 4 of your pawns. Using your skills and strategy, you can win and finish the game in just under 10 minutes.
You can enjoy this game with your friends, families, or acquaintances in a private room. You also have the option to play with strangers from around the world, depending on your mood.
What are the Basic Rules for Playing Ludo?
Ludo Empire is simple to learn and play, regardless of expertise. Even for amateurs, playing Ludo Empire won't be difficult because Ludo basic rules are easy to understand.
There are some simple rules for playing Ludo that a player must follow. Some of the basic Ludo rules and regulations are:
Unlock your pawns (or gotis) from the base by getting a six on your dice.
You can move any of your unlocked pawns based on the digits you get on your dice.
You get another chance if you get a six while rolling the dice. However, if you get three consecutive 6s, you will have to skip the turn and pass it on to the next player.
You can eliminate the opponent's goti by being on the same square as them. This will result in the opponent's goti returning to its team base. The opponent player must get another 6 to unlock that goti all over again.
You can protect your goti from being eliminated by standing on certain safe points or by having two of your same-colored pawns stand on the same square.
The sooner you get all your pawns to the center square, the sooner you win.
There is no difference in the rules for Ludo board game and the rules required to play the online version of the game. You need to follow these simple rules and learn how to play Ludo and win. Additionally, we'll give you some tips for Ludo to help you win.
Here are a few Quick Tips for Winning an Online Ludo Game
Winning an online Ludo game requires more than just your luck. It needs strategy, skills, and wits. It would be best if you outsmarted your opponent to ensure they don't gain an advantage over your style of play. That's how you win at the best online Ludo game. With these below-mentioned tips, you can learn how to play Ludo online with friends and outwit them.
Here are a few tips you can implement to make sure you get better at online Ludo games and earn money through Ludo Empire.
Ensure to unlock all your pawns first before you start rapid movements. This will allow you to get more choices as the game progresses.
Keep some of your pawns close to your opponents to grab the chance to eliminate them.
You can try and move your pawns in sets of 2 to prevent them from being eliminated by your opponent.
Make use of all the safe spots to protect your pawns against opponents.
Use your skills to determine which of your pawns should move in a specific turn. Always progressing forward can sometimes lead to untimely elimination.
Be patient. Speed doesn't always win you Ludo matches.
These are the tips that can help you triumph over your opponents while playing online Ludo games free of cost. Implementing these will make your online Ludo gameplay experience even more fun.
Say Goodbye to Boredom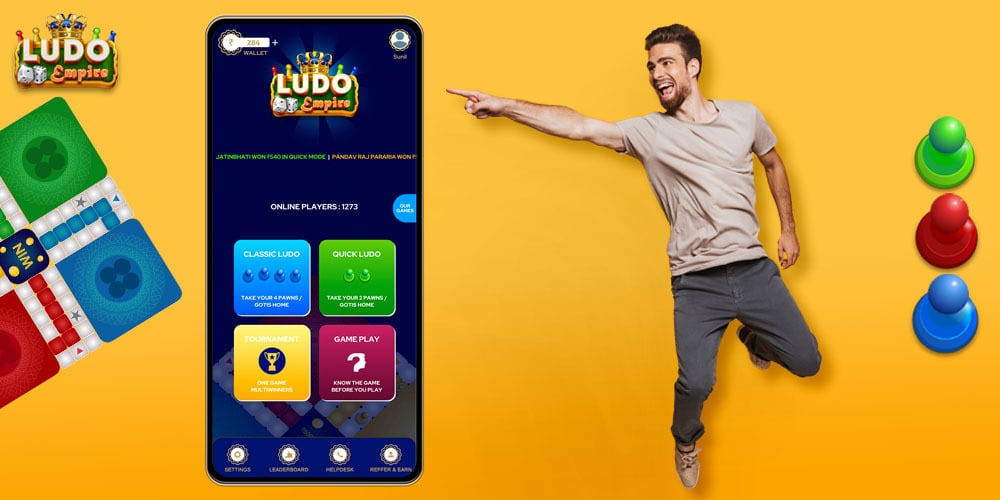 Ludo is one of the most entertaining board games in existence. It is simple, easy to play, and can be highly competitive if you start a game against your friends or family.
Nevertheless, it is also fun and can be a good way to pass the time on a slow day. With Ludo Empire, there's no need to spend hours setting up a match successfully.
Simply download the application and play your heart away.
---
Frequently Asked Questions (FAQs)
1. How can I play Ludo online?
You can play Ludo online by visiting the official site of Ludo Empire and downloading the application on your smartphone device.
2. Can I play Ludo King on mobile?
You can play Ludo King on your smartphone by simply downloading the application and installing it on your device.
3. Can I earn money by playing Ludo online?
Ludo Empire allows players to earn real money by playing online Ludo and winning against their competitors in cash battles.
4. Which is the best online Ludo game?
Ludo Empire is the most popular and entertaining online Ludo game in the market right now.
5. Which Ludo can we play online?
Ludo Empire allows you to experience the classic game of Ludo in an online mode. You can also try out some of their other game modes, like Quick Matches, Classical Matches, and Tournaments.
6. How to play Ludo with friends?
Ludo Empire allows you to create a private room and play with your friends and family. You just need to download the application and invite each other to play.
7. Is playing Ludo online safe?
Online Ludo is safe and secure for anyone. The money will be kept safe in popular and reliable gateways like PayTM, PhonePe, etc.